Marbled Acrylic Pour Ornaments - December 5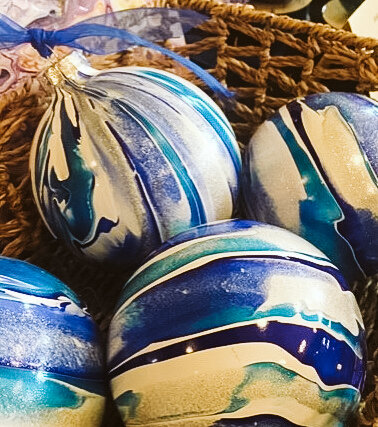 Marbled Acrylic Pour Ornaments - December 5
December 5 at 6:30pm. This new popular painting technique has been a Gather favorite for almost a year now! Heidi has added a holiday twist and this time you will be marbling six 3" glass ornaments! It's easy to learn and no one needs artistic experience. You'll choose colors and pour paint onto the ornaments to create beautiful abstract designs. Watch your design change and grow cells before your eyes. Each ornament is a surprise! Come along on this fun adventure with Petoskey artist Heidi Finley and take home six 3" glass ornaments. All supplies are included! All ages are welcome and kids under 10 will need direct help from a parent/guardian.
You will need to leave these overnight to try. Pickup dates and times will be communicated before the class, but you will have plenty of options from which to choose!
Heidi Reichenbach Finley discovered marbling in 2007 as a fine arts oil painter working on her Master of Arts in Studio Art at the University of Saint Francis in Fort Wayne, Indiana. As a painter, she is drawn to the stunning patterns and endless color combinations afforded by marbling. She maintains a home studio in Michigan's beautiful Upper Peninsula. As one of only a few professional marbling instructors in the nation, Heidi passionately shares this little known and fascinating craft through classes and workshops throughout Michigan and beyond. Believing in the power of creative discovery, Heidi delights in setting beginners up for success and watching their creativity emerge.
Please note that you have not signed up until you receive an email confirmation. Checking out on the Gather site is just like checking out on any other site - you will pay online. Because this is a one-time class with a guest teacher, refunds are not given, but you are welcome to transfer your ticket to a friend if you cannot make it.